Want an Affordable High-End
Real Estate Website NOW?
Contact Us Now to Get your
Free Real Estate Website mockup
The Best Real Estate Websites

Plus

Real Estate Marketing Platform
The Best Real Estate Websites at a Fraction of the Cost
Profusion360's powerful eAgent360 real estate platform can generate a professional, high-end, custom looking, complete real estate website for you immediately. Let us show you. Contact Us Now.
The Best Real Estate Websites.
Feature-Rich. Turnkey. Professional. Effective. Affordable.
Control Panel
Gives you complete control of your website for management and customization
Customizable
Give your website a custom look! Easily change many styling aspects of your website
Mobile Friendly
Mobile friendly responsive design make it easily viewable on any mobile device
IDX Search/Lead Capture
Property search and lead capturing turning your website into a lead generating machine
Turnkey
With pre-written content and articles, your website is ready to launch immediately
Featured Listings
Automatically display your listings from the MLS with full details page
Blog
Add fresh content by posting blogs with our easy to use blogging platform
Testimonials
Quickly and easily add and display testimonials using our testimonials module
Live Chat
Interact real time with your website visitors and capture leads with Live Chat
Integrated Platform
Your website is integrated with our virtual tours, property websites, showing feedback, and more
Communities
Easily define communities and display featured community listings
Agent Directory
Display members of your real estate team. Each team member gets a profile page with listings
Turn-Key Semi-Custom Real Estate Websites
Our Turn-Key Semi-Custom solution offer the best real estate websites for agents, teams, and offices. Our turn-key real estate websites are affordable, high-end design, and complete websites that allow you to be online quickly. Click here to learn more
Real Estate Listing Marketing
Save Abundance of Time With Our Powerful Listing Marketing Engine
The eAgent360 real estate marketing engine outputs marketing for your listing automatically. Not only will this same you an abundance of time, but you will no longer need to pay for separate vendors to provide this real estate marketing to you. Learn more about our Listing Marketing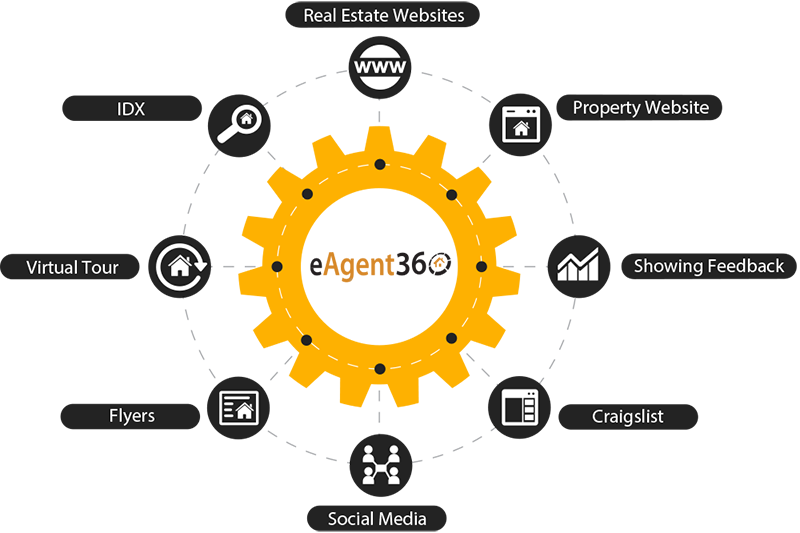 Virtual Tours
Professional Virtual Tour Automatically Created for ALL of your Listings
Mobile Friendly
Built on the latest HTML5, our virtual tours are viewable on mobile devices including the iPhone and iPad
Customizable
Easily customize by changing the background music, scene order, header, and much more
Supports Panoramas and Video
Showcase your virtual tour with panoramas and embedded video
DONE FOR YOU
Our platform automatically generates the virtual tour for every one of your listings.
Who Uses Profusion360
Just a few Real Estate Agents and Brokers whose marketing is powered by Profusion360