Showing Feedback System
A Completely Automated Showing Feedback Solution That Gives You the Feedback You Need to Sell Your Listings Faster
Save Time. Sell Faster. Happy Seller.
Get the Home Showing Feedback System Now!
Why You Need a Showing Feedback System
We know you don't have the time to make time consuming phone calls to showing agents to get the valuable showing feedback you need. And when you do get feedback, you may write it down on a piece of paper that may eventually get lost.
That is why we have developed a feature-rich real estate showing feedback system for real estate agents, teams, and offices. Our real estate showing feedback system will automatically send out showing feedback requests with an online feedback questionnaire to your showing agents to fill out. We compile all of the showing feedback for you so it's all in one place and easy to analyze. Now you can get the showing feedback you need to sell your listings faster and keep your sellers happy!
A Completely Automated Showing Feedback System
With our LockboxSync® technology, Profusion360 provides a completely automated showing feedback solution. Showings will automatically be imported from all of your property lockboxes into our system and an online showing feedback questionnaire will be sent to the showing agents. All you need to do is wait for our notifications when you've received showing feedback!
How The Showing Feedback System Works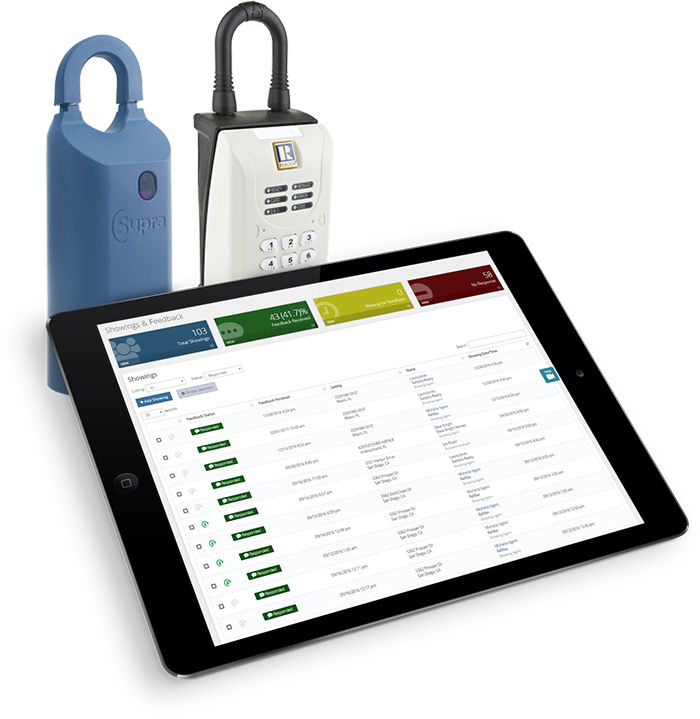 Lockbox Sync®
Automatic Import of Showings from Your Lockbox for a Complete Automated Showing Feedback Solution
Lockbox Sync® completely automates the process of obtaining showing feedback for your listings. When a showing agent accesses your lockbox to show your listing, LockboxSync® will capture the showing agent's information and import it to our Showing Feedback System. The showing agent is automatically sent an email with your showing feedback questionnaire.
LockboxSync® eliminates the need for you to enter your showings manually saving you an abundance of time. It's an automated showing feedback system every listing agent needs to obtain the necessary showing feedback to sell listings faster and keep sellers happy.
With Lockbox Sync®, you'll save hours every month from not having to enter showings manually
You no longer need a dedicated assistant to enter showings manually saving your hundreds of dollars every month
We Manage and Compile Your Showing Feedback
Have More Time to Focus on Your Clients
Trying to manually keep track of any showing feedback you've received yourself is a very tedious and time consuming process. Most of the time, you write down the feedback on a piece of paper that eventually gets lost or you try to remember it in your head. The result is inaccurate showing feedback.
Our showing feedback system will take away this time consuming tedious process from you. As showing feedback is received, it is stored in our system and outputs results in easy to read graphs. You can also view the showing feedback that you've received from each showing agent. Let us manage your showing feedback so you can have more time to focus on your clients.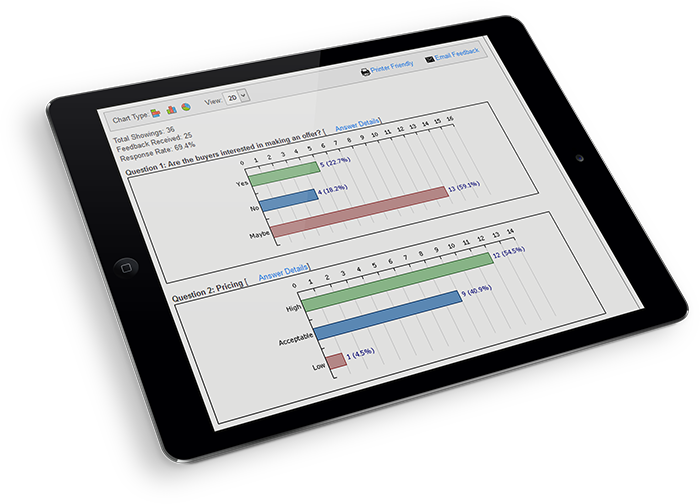 Showing Feedback Report
Impress your sellers with the professional showing feedback report.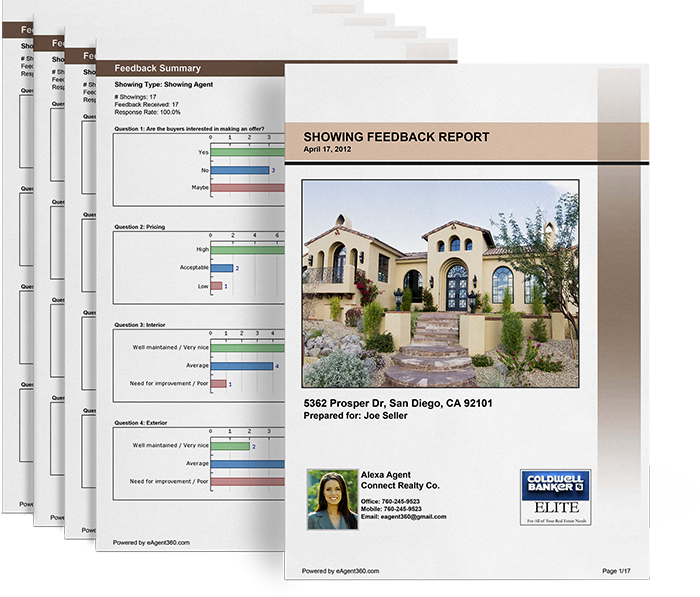 Our showing feedback system automatically generates a professional showing feedback report for your seller. Creating a similar showing feedback report manually would take your hours or even days. You can schedule to have our showing feedback system automatically send the feedback report to your seller at a specific interval for complete automation or simply print out the beautiful showing feedback report to present directly to your seller.
Ready to Present: Professional personalized cover page consists of your listing's photo and your information including photo and logo.
Easy Analysis: Feedback graph for each showing feedback question instant analysis
Automation Tools To Keep Your Seller Informed
Keep your sellers happy by keeping them up-to-date
It is important to keep your sellers happy by keeping them up-to-date on the progress of their property. It takes much time for you to do this. Our showing feedback system includes tools and notifications to do this so you don't have to.
Seller Portal: Create an account for the seller for online access to view showing feedback themselves
Add Showings: Give your seller the option to add showings themselves
Notifications: Automated notifications to your seller such as when a showing is added, feedback received, or feedback not received
Showing Feedback Report: Automatically have a professional showing feedback report generated by us sent to your seller at a specified interval
Customizable Feedback Questionnaires and Settings
Questionnaires sent to the showing agents are fully customizable. Our showing feedback system supports any type of question including multiple choice with multiple answers, multiple choice with single answer, multiple choice with open-ended answer, and open ended and open-ended questions allowing you to ask the questions you need to obtain effective showing feedback.
You may also customize how many showing feedback requests you want our showing feedback system to send out and the number of days between requests.
Showings Calendar
The Profusion360 Showing Feedback System includes a showings calendar for easy management of your showings.
Fully functional and interactive calendar that allows you to easily manage and add showings to request showing feedback.
All of your showings appear on the calendar allowing you to be more organized and avoid scheduling conflicts.
Mini showings calendar on your dashboard for quick scheduling and access to showing details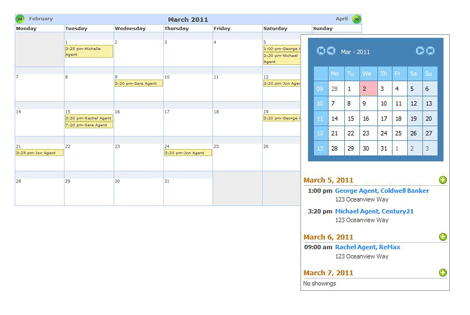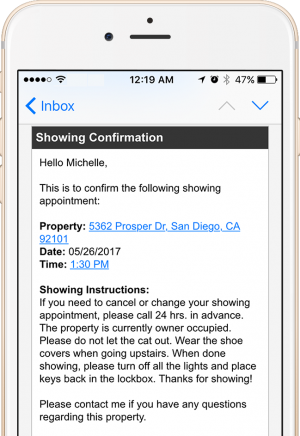 Showing Confirmation with Showing Instructions
Our showing feedback system automates the communication between you and the showing agent. For every showing you enter into our showing feedback system, you have the option to send the showing agent a showing confirmation email. The showing confirmation email confirms the date and time of the showing appointment along with your contact information.
If you have specific showing instructions or messages for the showing agent, you may include showing instructions in the showing confirmation email. All of this makes it much easier for you and the showing agent for efficient showings.
Showing Feedback Questionnaire with Photo Gallery
Many times the showing agent has shown so many properties that they may forget exactly what your listing looked like. This may result in inaccurate showing feedback as the showing agent may get confused with other properties.
With our showing feedback system, we've added a photo gallery of your listing on the showing feedback questionnaire reminding the showing agent of your listing. This will increase the accuracy of your showing feedback to ensure you get the data you need to sell your listing faster.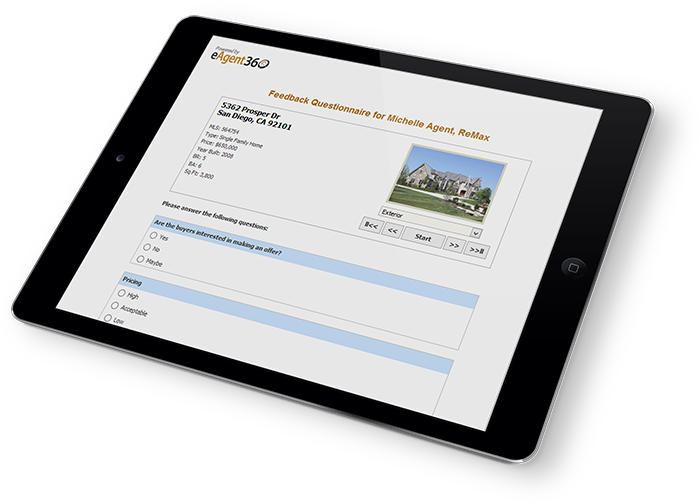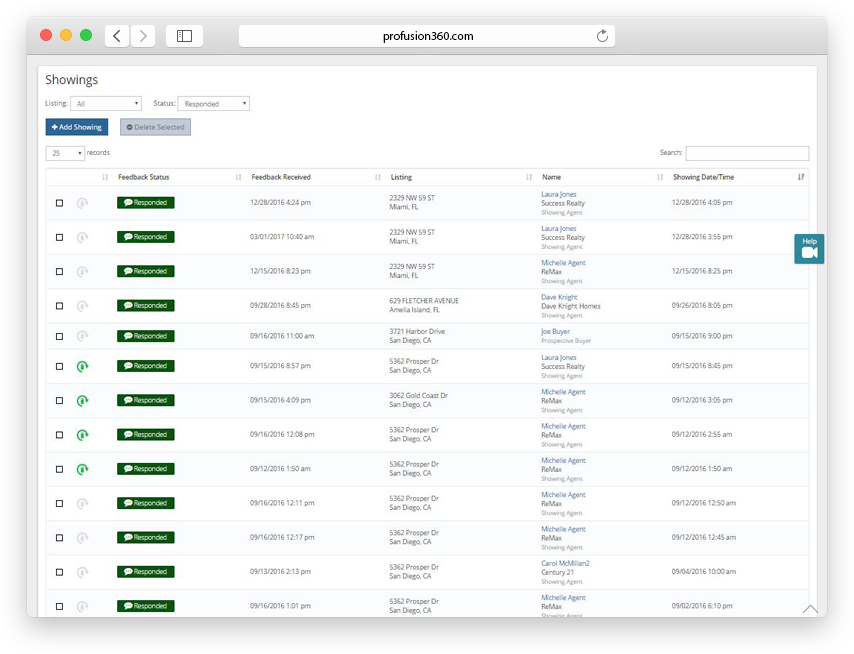 Showings Log
Keeps Your Showings Organized in One Place
As a busy real estate agent, you don't have the time to keep track and organize your showings. Using typical manual methods of obtaining showing feedback may result in a big mess and inaccurate showing feedback.
With our showing feedback system, all of your showings are neatly stored within the showing log. You'll be able to easily see all your showings for each listing with easy to read color coded showing feedback response status. No longer will you be scribbling your showings on loose pieces of paper and digging for them later.
Showing Feedback Status
Our showing feedback system will tell you when each showing feedback request was sent out and the status. This allows you to see when the showing feedback request attempts were made and the date/time the showing agent responded.

Price Reduced Notification
Imagine how much time it would take you to call all 50 of your showings for a listing to tell them that the price on the listing has been reduced. This is how much time our Price Reduced Notification will save you! In one mouse-click, you can send out a notification to all of your showings for a listing to let them know that the listing price has been reduced. We create the email for you with property information, photo, and message in which you may customize.
High Showing Feedback Response Rate
Dedicated Showing Feedback Server for High Deliverability Rate
Over 20% of legitimate email gets filtered as spam and never reaches the intended Inbox. We have implemented an Enterprise Class Email Delivery System resulting in the highest deliverability rate for all of your showing feedback requests and ntofications. This means that the showing feedback request emails you are sending out are being received and you will see a higher feedback response rate than other systems. This is just another feature that separates us from others.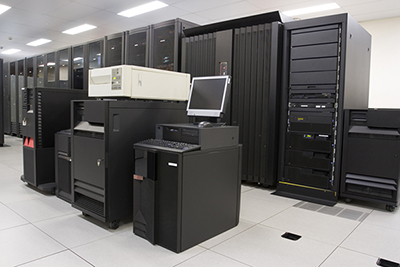 Opt-Out Management
In part of CAN-SPAM Act compliance, the recipients of your showing feedback requests can opt-out of receving future feedback requests from you. It is automatcally placed on your opt-out list so you don't have to worry about sending a showing feedback request to somebody who doesn't want to receive it. For those who opt-out, you can call them and enter showing feedback manually.