Real Estate Landing Pages
The Ultimate Real Estate Landing Page Suite to Generate More Leads
The Only Platform That Allows You to Create Real Estate Landing Pages FAST & EASY!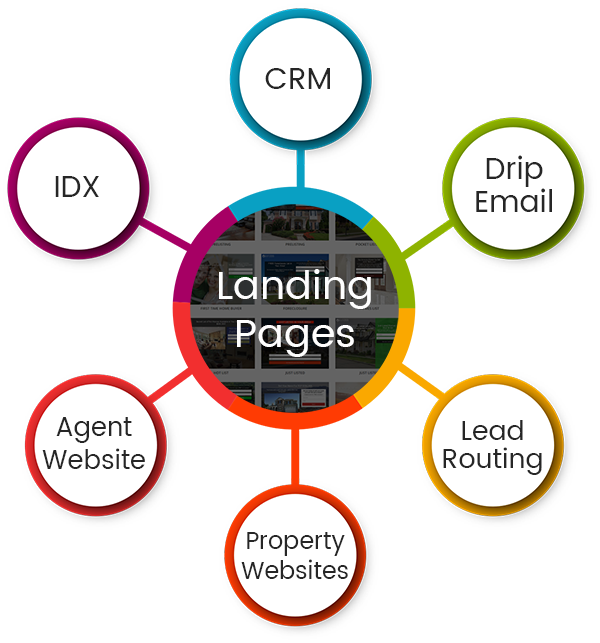 What makes Profusion360's landings pages the absolute best? We offer a complete lead generating landing page solution for real estate agents. While other services only offer the design aspect of the landing pages, Profusion360 offers the complete solution.
With our real estate landing page platform, your landing page page designs are "Done for You". With seamless integration to our IDX and property websites, you'll be able to easily create and define effective lead magnets for your landing pages. Our very own CRM system will capture all your leads allowing you to utilize our lead management tools and drip email campaigns. And because everything is built on our all-in-one marketing platform, our real estate landing pages are integrated with your agent website.
At Profusion360, we are always looking for ways for real estate agents and professionals to generate more leads. With our real estate landing pages, you'll create another channel of lead generation that will give you a flow of leads to build your real estate business.
Video: The Fastest Landing Page Creation
Landing Pages that are DONE FOR YOU
We know you don't have hours to spend on designing your real estate landing pages. That is why we have put in all the work for you to deliver you a landing page product that is like no other.
What makes our real estate landing pages different is that they are designed specifically for real estate professionals and they are DONE FOR YOU. You no longer have to spend hours creating your landing pages. We aren't just giving you a landing page builder, we are delivering you a finished product.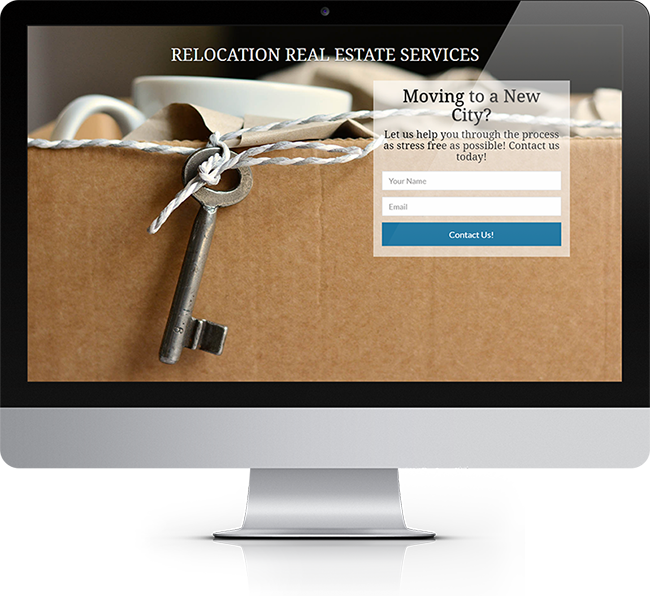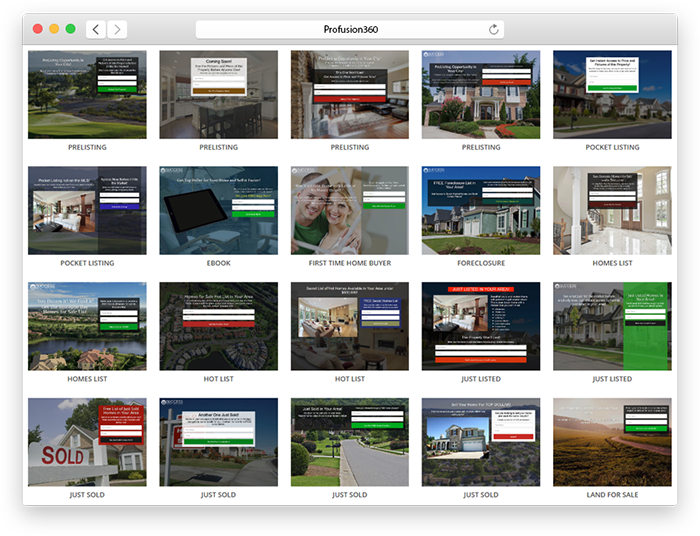 Create Your Real Estate Landing Pages in ONE-CLICK
Profusion360 has designed and put together the most effective landing pages for real estate agents and professionals. Whether you want a landing page to market a hot list, pocket listing, pre-listing, foreclosures, land for sale, new construction, investment properties, or an eBook, all you need to do is click on the real estate landing page you want to use and our system will generate the landing page for you instantly.
This will save you hours of time allowing you to start using your real estate landing pages immediately to generate leads.
Comparative Market Analysis
Our real estate landing pages include a Comparative Market Analysis (CMA) landing page that will generate you more seller leads. Our CMA landing page will give the user an instant property valuation including high and low estimates and 30 day change. The valuation report along with the user's contact information is captured within our very own CRM system.
Our CMA landing page is the easiest and quickest method to generate seller leads. This means more listings for you!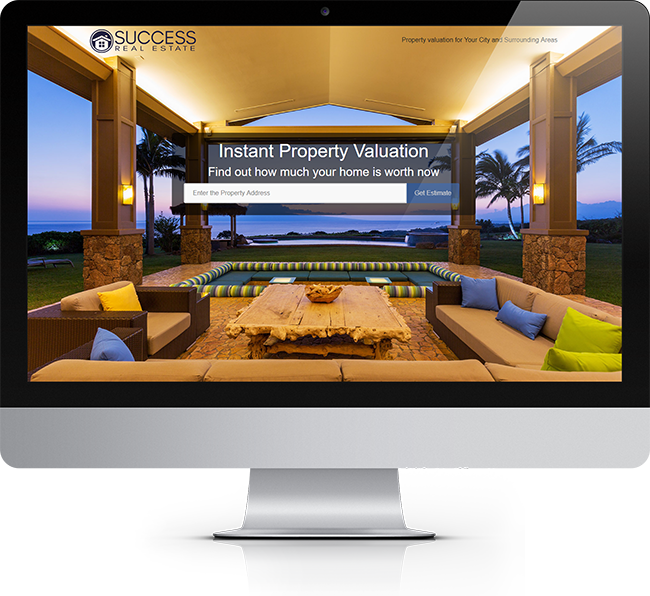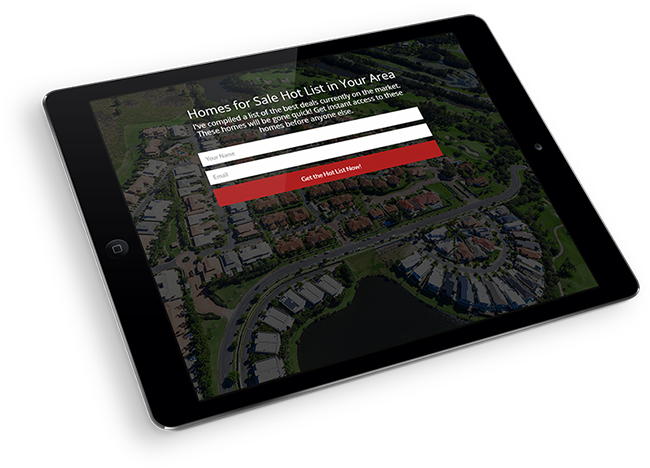 Integrated Platform
Like all of our products, our real estate landing pages are built on our all-in-one, integrated marketing platform. This means our landing pages work seamlessly with your website, IDX, property website, CRM system, and more.
With everything working together flawlessly, you'll have the perfect landing page platform that will enable you generate an abundance of leads and nurture them to closing.
Manage All Your Leads with our CRM System
Your leads generated from all your real estate landing pages will be captured instantly by our very own CRM system where you can fully manage your leads including lead routing, lead status and rating, tasks, notes, and more.
With our drip email marketing, you can have your generated leads automatically go into one of your drip email campaigns. This will allow you to nurture your leads and build your sales pipeline.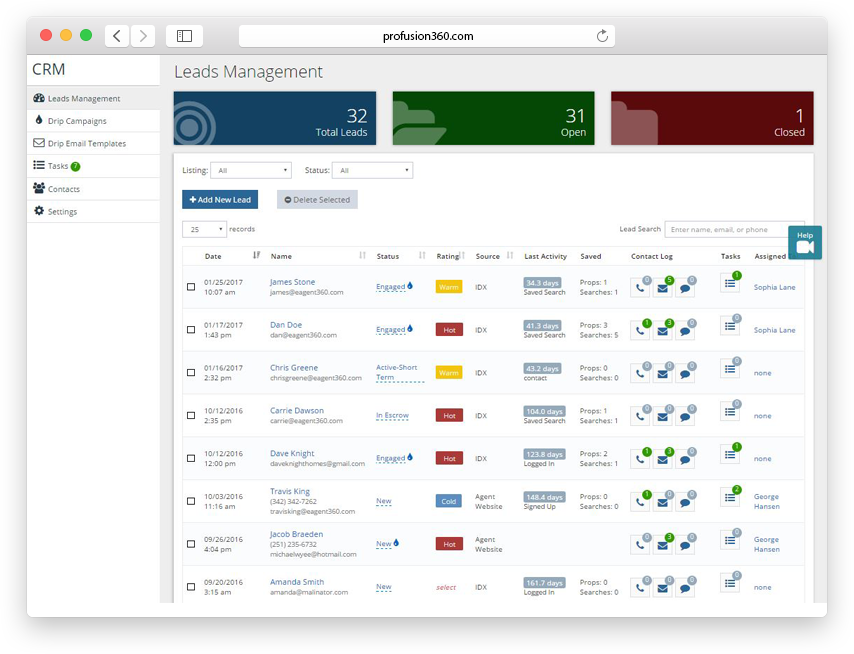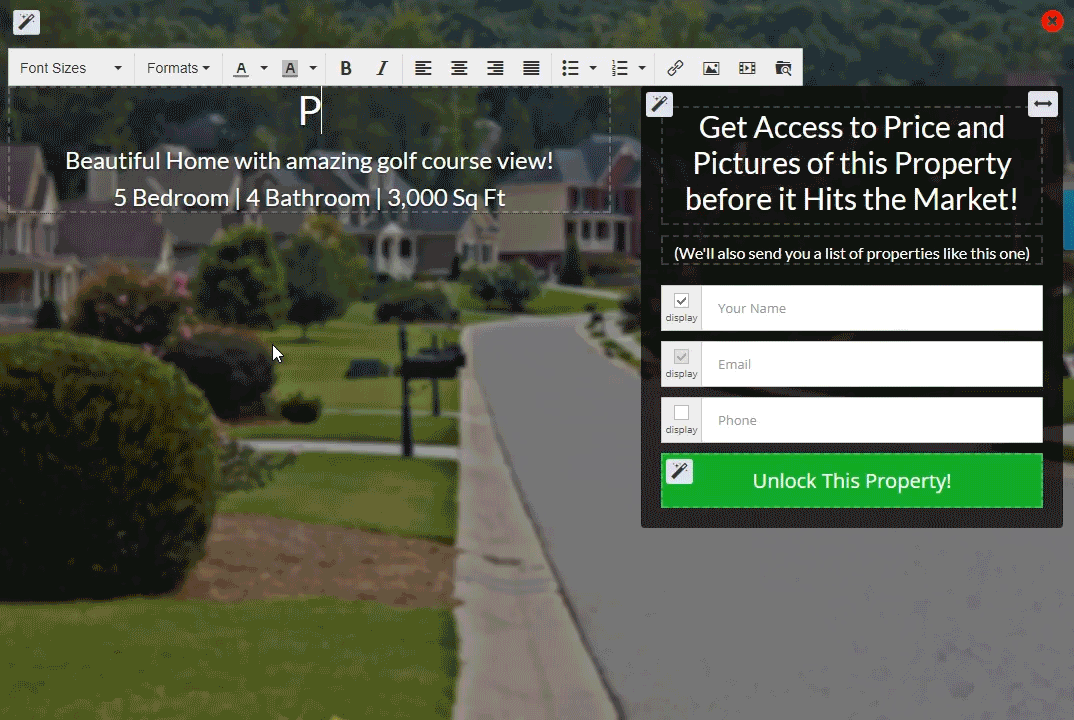 Easy Customization
Although the real estate landing pages are designed for you, you are able to fully customize them by using our interactive landing page builder.
Apply your own styling by changing the background image, font, colors, and more. Easily customize the content by inserting text, uploading images, or embed video.
Professionally Designed and Mobile Friendly Landing Pages
The design and look of your landing page can be the deciding factor in which your landing pages are converting or not. That is why each one of our real estate landing pages are carefully designed to be professional, attractive, and effective.
More importantly, our real estate landing pages are mobile-friendly and are easily viewable on any mobile device. If you are utilizing landing pages on Facebook or other social media sites, you can rest assured that your landing pages are effective for users viewing them on a mobile phone.