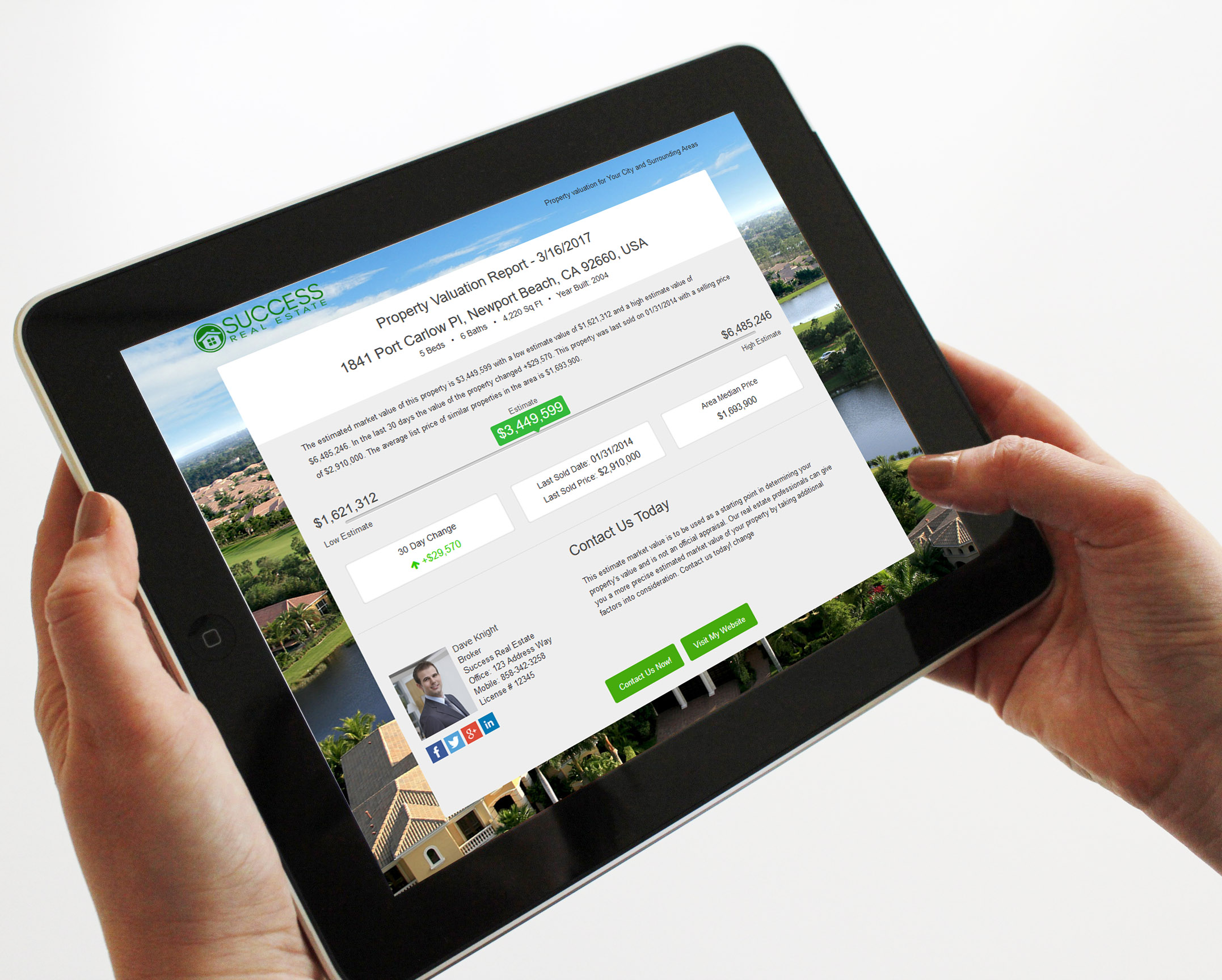 A Home Valuation Landing Page, also known as CMA landing page and What's Your Home Worth landing page, is a very effective method for real estate agents to generate lots of leads immediately.
What is a Home Valuation Landing Page?
A Home Valuation Landing Page is a single website page in which you offer a valuation of a home. The user first enters their property address along with their contact information. Once this information is submitted, the user is returned an instant valuation of the property. Home Valuation Landing Pages are effective because almost all home owners are curious to find out what their home is worth.
Capturing the Lead Information
Since Profusion360 is a integrated platform, the Home Valuation Landing Page is seamlessly integrated with Profusion360's CRM system. All of the lead information submitted during the home valuation request is captured by Profusion360's lead capturing system including name, email, phone number, and the valuation that was returned to the user. You can then use Profusion360's lead management tools such as assigning the lead to another agent, lead status, lead rating, notes, and adding tasks. Nurture the leads and build your sales pipeline with drip email campaign.
Integrated with Your Website
The Home Valuation Landing Page is integrated with Profusion360's agent websites allowing you to also capture leads from your website visitors. The landing page automatically appears as a menu item on your agent website, or can be placed anywhere such as your home page slider or any of your other website pages.
Fully Customizable
Profusion360's Home Valuation Landing Page is completely customizable. Easily change the background image by selecting an image from our background image library or upload you own custom image. Easily change any text on the landing page to customize it for the area you are focusing on. Change the colors and customize the call-to-actions buttons to whatever you prefer.
Where to Use a Home Valuation Landing Page
Your Home Valuation Landing Page can be used practically anywhere you can place a website link. Using it on social media particularly Faceboook is very effective. You can simply post the Home Valuation Landing Page to your Facebook pages, or use Facebook Ads to target a specific group by location, interests, age range, occupation, and more. Using our social posting tool, you can post your Home Valuation Landing Page in one-click to Facebook, Twitter, Google Plus, and more.
To learn more about Profusion360's Home Valuation Landing Page, please watch this video:
If you have any questions about Profusion360's Home Valuation Landing Page or our lead generating real estate marketing platform, please contact us at info@profusion360.com