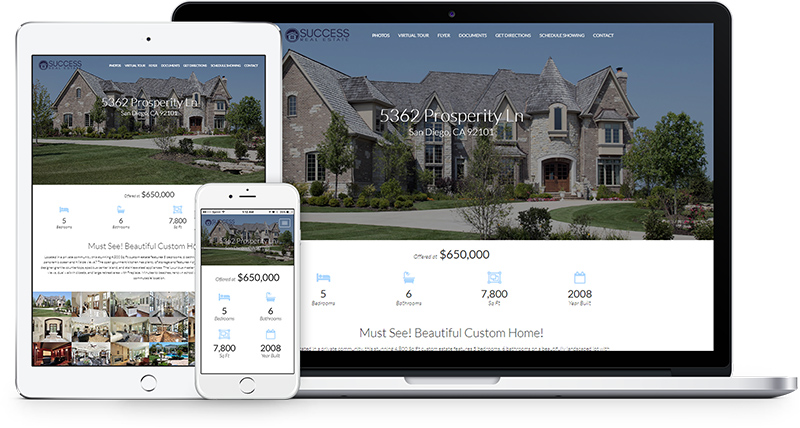 Today, we will be releasing our new property website design called "Majestic" that will be available to all Profusion360 members who are on our latest real estate marketing platform.
Built For Mobile Friendliness
The new property website design features a completely updated responsive design. "When we started the development of this new design, our main focus was mobile friendliness. Property websites are being used much more for on road marketing and landing pages, and with the increase usage of mobile phones to access property information, we wanted to make sure every aspect of the property website was mobile friendly from the menu to the photo gallery." states Michael Yee, VP Technology Development. The new property website design passes the Google mobile friendliness test and has been tested on the most popular mobile phones to ensure all information and photos on the property website are clearly readable and viewable.
Improved Photo Gallery
The new property design features a clean and beautiful photo gallery. Mobile friendliness was also the the main consideration in developing the photo gallery to ensure the photos were easily viewable on a mobile device. Using swipe technology, a user who is viewing the photo gallery on a mobile phone can simply use their finger to "swipe" through all the property images allowing the user to easily and quickly view all the images.

Map and Directions
Also, new with the new single property website design is an automatically generated interactive map displaying the location of the property. Users can also get directions to the property using the Get Direction menu link.
Lead Capturing
If somebody has questions or is requesting more information about the property, a lead capturing form is available on the property website. Any leads submitted using the form are captured in our CRM system where you can utilize our lead management and drip email campaigns.
Integration with Showing Feedback System
If you have our Showing Feedback System, the new single property website design consists of a Schedule Showing link that is integrated with our Showing Feedback System. When somebody requests a showing, you will be be notified to approve the showing. Once approved, the showing is scheduled into our Showing Feedback System to obtain showing feedback.
Automatic Links to Virtual Tour and Flyer
Because our property websites are built on our integrated real estate marketing platform, the property website will automatically consist of menu links to the virtual tour and flyer.
Automatically Created
Your property website is automatically generated for all your listings. Absolutely no work is required by you to create the property websites. Our platform automatically creates a single property website for each of your listings and populate it with all the property information, photos, and your information including profile photo and logo.
To access, the new property website design, simply select "Majestic" for the property website template.