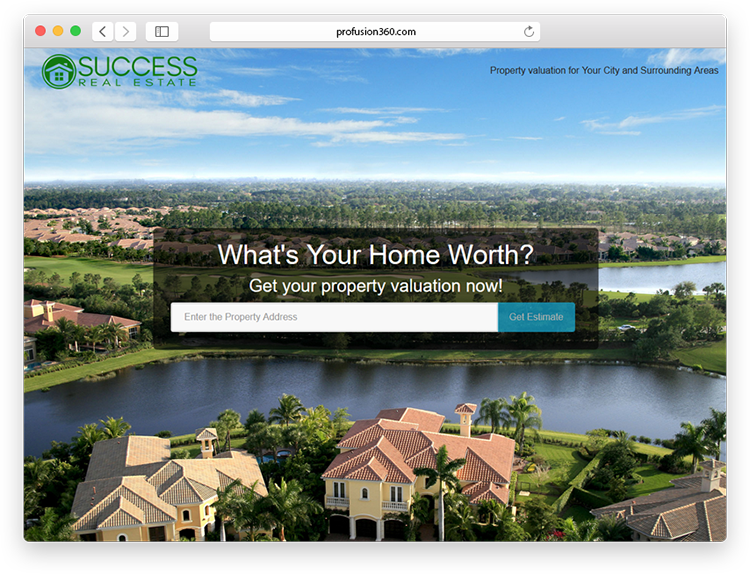 Profusion360 is excited to release another lead generating product to our members – Home Valuation Page.
What is a Home Valuation Page?
The Home Valuation Page, also known as Comparable Market Analysis (CMA), is a landing page that will generate seller leads. The user enters their property address and contact information and an instant valuation is returned. All of the user's information is captured in our CRM system allowing you to manage the lead and place it in a follow-up drip campaign.
Where to use the Home Valuation Page
The Home Valuation Page can practically be used anywhere to generate leads. Profusion360's Home Valuation Page is seamlessly integrated into your real estate website as another lead capturing page to capture seller leads who land on your agent website.
Another effective place to use the Home Valuation Page is on social media. Social media is a quick method of capturing seller leads. With our one-click posting tool, you'll be able to post the Home Valuation Page to Facebook and other social media sites. If you are utilizing ads, you may use the Home Valuation Page as your ad to capture local seller leads.
CRM Integration
Profusion360's Home Valuation Page and CRM system exist on one platform. Seller leads captured from the Home Valuation Page will instantly appear in our CRM system and you will be notified by text message and email so you may follow up immediately. With our CRM system, you'll be able to place your seller leads into an automatic follow-up system using our drip email campaigns. You'll also be able to utilize the lead management tools of our real estate CRM system.
Instant Valuations
Another feature of Profusion360's Home Valuation Page is giving the user an instant property valuation. Valuations include current estimate, low estimate, high estimate, and 30-day change. This gives you more credibility and a starting point to engage the lead for further property valuation analysis. All valuation values are captured within our CRM system so you know what was given to the user.
Fully Customizable
Profusion360's real estate marketing platform automatically generates the Home Valuation Page for you but it is fully customizable so you may tailor it for your area and needs. Change the text, design, and background image using our image library or upload your own.
The Home Valuation Page is available to all Pro and Elite subscribers on our latest platform. If you have any questions on using or getting the Home Valuation Page, please email us at info@profusion360.com